Las Vegas, NV
It takes virtually no effort to burn out after a single day in Las Vegas, where extravagance isn't an extra—it's expected! Pace your perfect three-day trip with a balance of indulgence and exploration, and you won't feel like you missed anything on your plane ride home to reality. The perfect vacation in Vegas combines incredible attractions like fine dining, some soft adventure, and a few ways to take in those incredible desert views.
DAY 1
Day Club @ Marquee (Cosmopolitan Hotel)
Lunch @ Vernada
Walk down The Strip
Visit Neon Museum
---
Dinner @ Hakkasan
Night Club @ The Palm
Vegas has its reputation and for the longest time I really thought I'd hate it. I had studied Robert Venturi's architectural analysis of Las Vegas, but never visited, and I didn't plan to. But that's no way to think, so I gave Vegas a shot and I actually ended up enjoying my time.
We had an early morning flight, checked into our hotel then headed out straight to Marquee, the day club. We were visiting from Miami (The Party City), so we didn't stay at the day club for long. We lunched at Veranda, in the Four Seasons, there is an outdoor terrace that overlooks the garden and pool. Afterwards, we explored The Strip, so if you look at a map, the Cosmopolitan Hotel is pretty much in the middle and the famous "Welcome to Fabulous Las Vegas" sign is south of there. There's Luxor which has a replica of the pyramids, Paris with the replica Eiffel Tower, gondola ride at The Venetian - The Strip is full of photographic spots.
One place I highly recommend is the Neon Museum! I have to say I wasn't expecting anything so cool. There's the bone yard at the Neon Museum if you're looking for something funky and unique like old vintage signs. Walking along The Strip is perfect on the first day and really gives you an understanding of what is around. Dinner at Hakkasan was delicious and familiar (if you've ever been to the one in NYC), I love their interior decor.
For nightlife, we decided to check out Moon, the rooftop of The Palm, it's a little off the strip, but has spectacular views. There's also a small glass floor on the rooftop patio. I kept jumping on it, so I creeped out some people.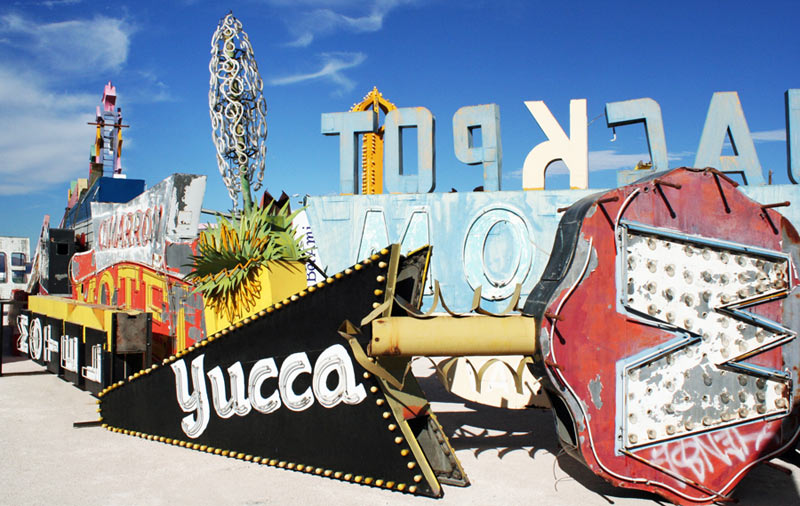 Day 2
Walk through the Bellagio Mall
Day Club @ Dria's
Lunch @ Wahlburger or In & Out (both amazing)
Explore Downtown, Fremont Street
---
Bellagio Water Show
Dinner & Club @ TAO (Venetian Hotel)
Around 8am I woke up to walk down The Strip, eventually finding my way to the Bellagio Mall. Early morning on The Strip is so different, it's quiet and peaceful. If you've never been to Las Vegas before, you might be surprised by just how big the strip is. From end to end, it is 4.5 miles. It's a lot of walking but you don't really feel it.
Our second day there we went to Dria's day club on the rooftop of the Cromwell Hotel. I love their hot pink chairs. From the rooftop, you find the perfect view of The Strip and Bellagio Hotel's water show. The pool area is amazing, the music was on point, but the best part was the view of the water show. Overall a fun start to our afternoon.
Monday - Friday: (Every 30 mins) from 3-8 pm. & (every 15 mins) from 8 pm - midnight
Saturday & Sunday: (Every 30 mins)11am-7pm & (Every 15 mins) from 7pm - midnight
Low-key lunch at Wahlburgers, owned by actor, Mark Wahlberg and his family. To be honest, I'm not a Casino Gal or Fat Tuesday's day drinker, so I chose sightseeing. If you want to make it to the old downtown to explore the Fremont experience and the original casinos (recommended!), it's 6 miles away. If you don't want to walk everywhere. Transportation in and around Las Vegas is notoriously expensive, but;
Take Lyft instead of cabs. We asked one taxi driver how much it would cost for a ride from the strip to Fremont Street (downtown Las Vegas), he said "About $30." Same route on Lyft was $8.
Downtown Las Vegas (DTLV) has on nearly every corner in Fremont East, a mural or an art piece by artists from all over the world. It's like Wynwood Walls meets Las Vegas quirkiness. Interesting to check out! Take a walk around the neighborhood and you'll find the perfect backdrops.
Back on The Strip, Tao Vegas has both a restaurant and nightclub (located in the Venetian Hotel), the restaurant chain also has locations in NYC and LA. We left Sin City and entered the Pacific Rim inside TAO with its lush velvets and silks, waterfalls and a 20-foot Buddha.
Day 3

Morning Hike @ Red Rock Canyon
Detour - Lou Ruvo Center
Ate @ El Gordo Tacos
Afternoon @ 7 Magic Mountains
So I learned just how small Las Vegas is once we drove outside of The Strip. Vegas is surrounded by miles of canyons and desert. On our last day, we had a night flight, so we decided to rent a car and explore. First thing we did was head to the Lou Ruvo Center. I insisted! I wanted to see Frank Gehry's design, which is probably only something architecture students would like. On the car ride there I was trying to describe what kind of design it is. Either I didn't explain it correctly or my husband and friends aren't visual thinkers. They were "oohing" and "aahing" the building... until I pointed out they were looking at the wrong building.
From there we headed to Red Rock Canyon. It's hot so be prepared and it gets crowded on the weekends. It's an interesting park, you drive through the path and you can stop at different parts along the way, or enjoy the view from your car window. There is a small car entry fee.
After all that, we were starving. My friend took us to a shady-looking taco place called El Gordo, and it was amazing! It seems like there is always a huge line, but it's well worth the wait. As far as tacos go, you can't go wrong with their carne asada tacos. They have other selection of tacos, fries, and quesadillas. Late in the afternoon, we checked out 7 Magic Mountains. It's a colorful installation designed by Swiss artist Ugo Rondinone. Seven Magic Mountains is a two-year exhibition of local boulders. It's out in the middle of the dessert, off the highway. The inner roads off the highway are empty and beautiful. We had the chance to watch the sunset on our drive to the airport.
FROM Las Vegas OR VISITED? PLEASE COMMENT SUGGESTIONS/IDEAS
↓ ALWAYS LOVE TO HEAR FROM OTHERS ↓