New York, NY
New York is the capital of the world & there is no place like it. Known as the big apple, the city that never sleeps, and so on, This city has something to offer everyone. It is unpredictable, charming and vibrant, full of galleries and museums, an endless number of restaurants, and history. Whether you're a local or just visiting - below is a 4-day itinerary through Manhattan's neighborhoods!
DAY 1: Uptown & Midtown
Visit Metropolitan Museum of Art
Explore Central Park / Columbus Circle / 5th Ave
Visit MoMA Museum
Lunch
Visit New York Public Library
Explore Madsion Sq. Park & Flatiron
Trying to get through all the main areas of Manhattan requires a lot of walking, but it's amazing. While it may seem otherwise, New York City is a walkable city, trust me. A majority of visitors like to visit the three typical tourist spots: Times Square, Statue of Liberty, and the Empire State Building; while those spots are well-known, you can also spend your days exploring different districts and the local spots of New York City. For Day 1, start at the top, The Upper East & West Side (read more).
Personally, I think starting Uptown and making your way down to Midtown is the best option. Exploring the Upper East Side during the morning is like what you'd see in Gossip Girl - Quiet streets, Museum Mile, and beautiful townhouses. Madison Avenue has plenty of shops and cute restaurants to start your morning. I love visiting the Metropolitan Museum. Of all the museums I suggest, this is the absolute must-see. It's huge, nearly impossible to cover all at once, but you get an idea of the museum and what it has to offer. My favorite exhibit is the Temple of Dendur, an open sky-lit Ancient Egyptian room. Nearby is another museum, The Guggenheim (designed by Frank Lloyd Wright), which is also very interesting. They feature several special exhibitions throughout the year. I do love the building more than their art, but that's just the life of an architect.
After visiting Museum Mile, you can walk through Central Park if you have the time. The park is gigantic, and the best about the area can be found at "The 16 Best Things To Do In Central Park" on Thrillist. Alternatively, you can find a quicker way to Central Park South (the southern border of the park). Here you'll find the The Plaza Hotel, Columbus Circle, and the start of 5th Avenue stores.
Work your way down to explore the rest of Midtown (read more). The infamous 5th Avenue, is full of shops, which makes it great to walk through on your way down. *During the Christmas Season, 5th Avenue is beautiful to see, almost every building is decorated in lights* On 53rd & 5th Ave is the MoMA Museum, if you feel like continuing a day of art, here's a good place to find contemporary modern art. Otherwise, 5th Avenue is the place to get lost in a trance of shopping.
Midtown isn't usually my go to area for lunch, but plenty of lunch spot options. Midtown is home to the iconic New York Public Library (NYPL) with Bryant Park right behind it. For those of you who have never been, the NYPL is open to the public and over 100 years old. Bryant Park is a lovely oasis amidst the noisy crowded streets of Midtown, you can either grab a snack and sit in the park or choose from the numerous spots to eat around. If it's the winter season, Bryant Park holds their annual Holiday Bazaar and ice skating rink .
Exploring the rest of Midtown, you find what you'd normally expect - Times Square and the Empire State Building. Around 18th street is the Flatiron Building, (read more) at the intersection where Broadway & 5th Avenue meet. Here you'll also find Madison Sq. Park (not the stadium), where the famous Shake Shack resides, and Union Sq. Park, the urban hubs of the district surrounded by restaurants and stores. To end your Uptown & Midtown tour, you can enjoy dinner at one of the thousands of restaurants in the area!
DAY 2: Chelsea, Meatpacking, Chinatown & Little Italy
Sightsee cHelsea
Walk High line
Explore Whitney Museum
Lunch
Explore Meatpacking District
Head to Little Italy
Walk through Chinatown
There is so much to do and so many places to see/eat in New York City, it's hard to know where to start. So, I usually suggest anywhere away from Times Square. For your 2nd day, start in Chelsea (read more) and explore the areas through Lower Manhattan. For breakfast/lunch I love The Park, a romantic spot with an indoor & outdoor dining space. The outdoor area resembles a park since you find trees within the space, enclosed so it's open during the winter.
Right across the restaurant is The High Line, which is a definite must-see! If you haven't heard of the High Line, it's arguably the best example of historic preservation in the area. At one point it was the NY Central Railroad transformed into a sight-seeing park. It's a fun way to walk through the city, it stretches from Gansevoort Street in Meatpacking District up to 34th Street.
Attached to one side of the High Line is The Whitney Museum of Art (designed by Renzo Piano) with a refreshing selection of contemporary 20th and 21st century art pieces. There is a terrace Studio Cafe on the 8th floor and a restaurant called Untitled on the ground floor. The area connects to the Meatpacking District, another really cool (historic) area. The name comes from what the area was used for, and that's meat-packing in the early 1940s, the buildings since have been renovated and converted into boutiques shops and restaurants while maintaining the historic facades.
From there, if you've worked up an appetite there are a number of restaurants/bars. I love the STK Rooftop for views of the High Line, open year-round but especially beautiful during the Spring/Summer months. Otherwise, there is also the Chelsea Market, an indoor bazaar of unique mini-restaurants (across the street from Google offices).
From Meatpacking you can grab an uber or take the subway down to Chinatown (read more). The area takes on aspects of Shanghai, aka dense crowds on the streets (especially Canal Street) and Chinese characters everywhere. There's a Chinatown in almost every major city, but New York's Chinatown is actually the largest, and worth a quick visit. Little Italy is ceasing to exist, as Chinatown grows and engulfs the surrounding areas. That said, it's fun to see such a historic area, and get some gelato at Mo il Gelato. You won't find top museums in this area but there are a number of interesting finds, like the smallest museum, Mmuseumm, or Mahayana Buddhist temple.
You can spend the rest of the night exploring Chinatown & Little Italy, or head back up to Chelsea and combine dinner and nightlife at Tao Downtown. Here, you find a sensual trip through cuisines of Asia. The moment you enter you find a grand staircase accented by artifacts from China, Japan, and Thailand. The music and food are great, then at night the space opens its night lounge.
DAY 3: Soho, Nolita, Tribeca & Downtown
Shop in Soho
Coffee stop @ La Mercerie
Visit New Museum
Lunch
Explore Lower East SIde
Visit World Trade Center
Explore Financial District
Once you've gotten the hang of the streets and directions, brace yourself because this part of downtown is a super-cluster of neighborhoods. For Day 3 spend your day exploring the beautiful districts of the Village, Soho, Nolita and the rest of Lower Manhattan as these areas begin to merge into one another. Start your day early to get through most of Downtown. For breakfast, a great spot I love is Jack's Wife Freda, (open as early as 8:30a) in The Village (read more) which serves some of the most delicious American-Mediterranean cooking ever. I love walking through the West Village neighborhood, with its ivy-clad apartments and small street-cafe shops. Washington Square Park and NYU territory are in the area, but if you're short on time I usually just suggest heading down to Soho (read more).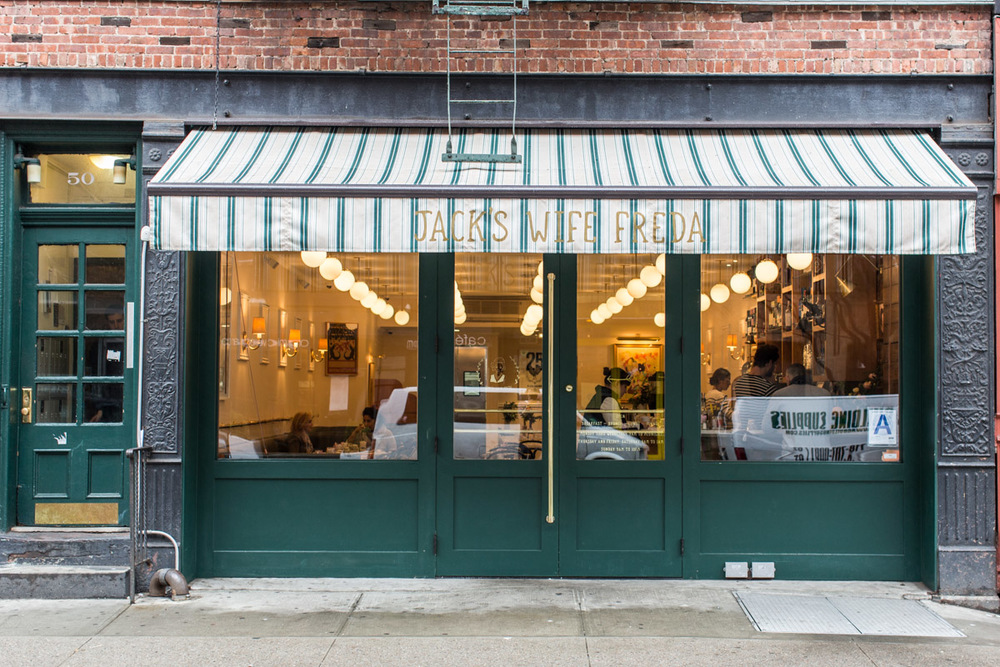 Once you enter SoHo, you're a short walk away from NoHo, Nolita & TriBeCa (read more). This area, especially SoHo, has picturesque cobble stone streets, boutique shops & and adorable coffee shops. Laduree is my personal favorite when it comes to tea and pastries - the Soho location has a bakery & restaurant, their tea selection is exquisite, of course paired with some delicious macarons. If you love to shop, Soho has all the stores you need, from fast-fashion retailers to high-end boutiques to one-of-a-kind shops. Most retailers are spread across Broadway, but the unique boutiques are scattered within SoHo (through Prince/Mercer/Greene Street, etc). There are adorable little coffee shops around, like La Mercerie, if you need a quick break from shopping.
Some of my favorite Small coffee shops:
Cha Cha Matcha: 373 Broome St.
Happy Bones: 394 Broome St.
Dr. Smood: 470 Broome St.
Ludlow Coffee Supply: 176 Ludlow St.
La Mercerie: 53 Howard St.
Trying to fit everything into one day is pretty difficult, but if you prefer art to shopping, then the New Museum (designed by SANNA) is the perfect place to spend your morning. It's a stacked building and the fresh face of contemporary art. From there head down to the Lower East Side (read more). A cool spot to grab lunch is Metrograph Commissary, it's a small restaurant hidden on the second floor of an awesome theater - so really chill vibes. Afterwards, it's fun to explore the local galleries, I love to walk down Orchard Street and find new exhibitions.
After all that, if you're still up for exploring more, walk through / grab an uber / or subway down to Tribeca and the Financial District (Read More). The Financial District is usually fast-paced during the day and calm at night, this is where New York City was born. Wall Street is where George Washington took the oath of office as America's first president. But the biggest attraction, aside from the rich history and old buildings, is the September 11 Memorial where visitors can pay respects at Ground Zero. The Plaza consists of the 9/11 Museum, One World Trade Center and it's observatory; the memorial pools with names of every person lost in 1993 and 2001, and Santiago Calatrava's Oculus.
If you're a history fan, you may want to keep exploring this downtown area and find your way to the Irish Hunger Memorial and Stone Street historic district.
For dinner, you can stay in whichever area you're in. That said, I suggest heading back up to SoHo/Nolita, where there are two great spots I highly recommend - Mercer Kitchen (in Soho) or Nomo Kitchen (in Nolita). Both are great restaurants in their own way. Mercer Kitchen is a fabulous underground restaurant with an open kitchen; Nomo Kitchen is also beautiful, I love their grunge-meets-upscale vibe. From there you can end your night at The Blond or La Compagnie des vins Surnaturels.
If you're interested in a cool, true homage to Prohibition-style drinking, Please Don't Tell (PDT) is hidden in a hotdog joint and a fun way to sip a craft cocktail in secret.
DAY 5: Brooklyn
Morning @ Brooklyn Bridge Park
Explore Dumbo
Visit Jane's Carousel
- Spring time @ Brooklyn Botanic Garden
Visit Brooklyn Museum
Explore Williamsburg
Fun @ Brooklyn Bowl
If you're spending more than just a long weekend in New York City, I'd suggest exploring the hidden gems of Manhattan or branching out to Brooklyn. (Of course these days are interchangeable and just fun suggestions!) So spend your day exploring Manhattan's neighboring borough: Brooklyn.
*Otherwise you could always revisit Chelsea, SoHo, Midtown, etc.. or see the Statue of Liberty (Ellis Island)
At this point, Brooklyn is really a city unto itself. If Brooklyn had not traded its sovereignty to become a part of "New York City" (1898), it actually would've been the fourth largest city in the US. But alas, Brooklyn is part of NYC; like Manhattan it's hard to pin down a summary to describe it. Brooklyn is full of its own districts, with some favorites like Williamsburg, DUMBO, and Brooklyn Heights.
Start your morning low-key and casual, in the most affluent neighborhood, which is Brooklyn Heights; which can be found right off the Brooklyn Bridge with spectacular views of Manhattan. *If the weather allows it, walking the bridge is actually really fun. Brooklyn Heights is a quaint, suburban-like oasis, with town homes and winding cobblestone streets. Nearby, within walking distance, is DUMBO. You've probably seen all the photos on Instagram of the iconic Manhattan Bridge view. Well that's where the name "DUMBO" comes from: Down Under the Manhattan Bridge Overpass. The photos you see are usually taken from Washington Street between Front and Water street. I love walking through Brooklyn Bridge Park and Jane's Carousel, then popping into PowerHouse Books to look at some art/photography books. An interesting late breakfast/early lunch spot is Atrium, an industrial-chic restaurant with plant walls; their classic dishes are contemporary French with a fancy spin.
If it's Spring or Summer, then it's the best time to visit the Brooklyn Botanic Garden in Park Slope. My absolute favorite time is in May, when the cherry blossom tress bloom. The garden is quite large so prepare to spend a while exploring.

If the gardens isn't an option, then Park Slope is also home to the Brooklyn Museum.
A favorite of mine since Freshman Year of college has been, Williamsburg, which is what put Brooklyn on the map for this generation of New Yorkers, and one of the best places for a great night. The area attracted many artists so it's fun to pop in for gallery and go bar hopping. But the times my friends and I actually leave Manhattan, we love to go to Brooklyn Bowl to watch live shows while we play a game of bowling. Dinner at 1 or 8 is a must for sushi lovers. The food is freshly delicious in a light and airy venue. It's a wonderful experience. Afterwards, the night eventually finds itself at either Hotel Delmano or back in Dumbo at Gran Electrica.
Depending on the time of the year you're visiting and/or your personal preference, below are individual posts on each district in Manhattan. Feel free to make your own itinerary!
From NYC or Visited? Please comment suggestions/ideas
↓ Always love to hear from others ↓