Quito, Ecuador
Ecuador's capital city, Quito, is located high in the Andes (2,850m above sea level), squeezed between mountain peaks with hills of greenery. I loved exploring my mother's home country; the monuments and 17th-century architectural facades, picturesque plazas and magnificent churches. One of the most beautiful cities in South America, definitely a great place to visit!
Things to do:
Teleferiqo: ride up the volcano, see Quito from above

Mitad Del Mundo: Quito's middle of the world

Shiripuno Tribe: Indigenous tribe in Misahualli

Umbuni Waterfall: Tena tour of Amazon forest

Pichincha Volcano: hike, horseback ride

Hop On/Off bus: hit all the historic spots of Quito at once
Best Cafes:
Cyrano: affordable coffee & bakery shop

Honey & Honey: coffee/tea spot in Plaza Foch
Where to eat:
Q Restaurant: modern Ecuadorian dishes

Zinc Gastro Bar: fun, great spot for brunch

Urko Cocina Local: cozy, casual Ecuadorian food

Cafe Plaza Grande: Old Quito lunch/dinner

Nubori: sushi in Ecuador
Where to Shop:
Mercado Artesanal La Mariscal: local artisan market

Otovalo: hop on a bus to their huge Saturday artisan market

Shepherd: Quito's eclectic local shop
DAY 1
started day at the Quito Hop On/Off Tour
ice cream @ Dulce Placer Heladeria
---
Dinner @ Q Restaurant
I have been visiting Quito since I was a young girl. This country is my mother's home and dear to my heart. [My husband] Abd-Allah's first time in Quito, last year, meant I could explore like a tourist!
I figured it was the quickest way to see Quito's main spots was on the Quito Hop On/Off Tour . Our first day in Quito began at Parque de La Carolina where the bus pick up is. Like any hop on/off bus, you get a map with stops. The first stop we got off at was theCentro de Arte Contemporaneo, a wonderful contemporary art museum, we explored for a half hour. (buses come by every 30 minutes)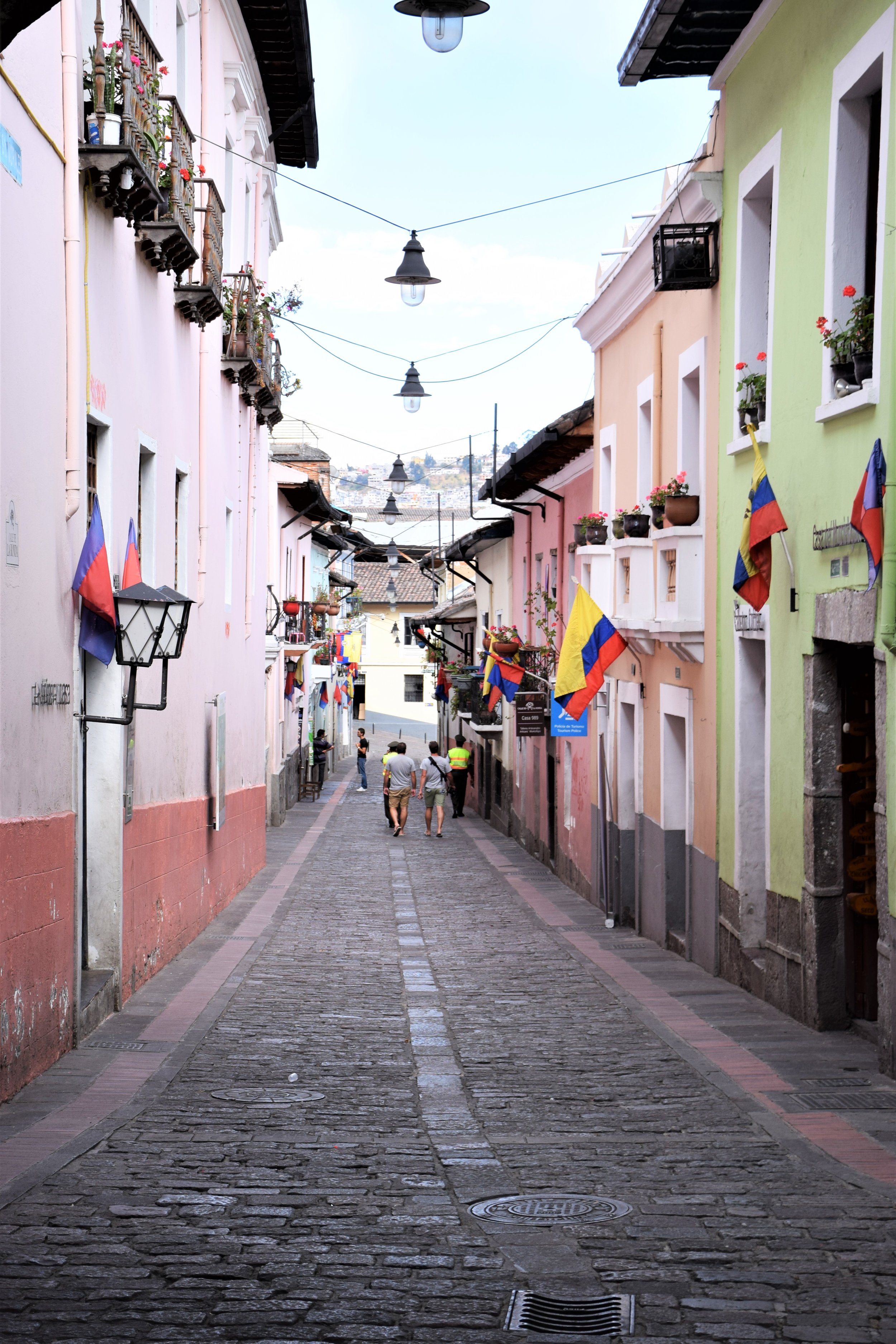 Afterwards we explored Basilica del Voto Nacional, you're able to climb all the way to the top (exhilarating, amazing, and terrifying views). We also went to Iglesia de La Compañía de Jesús, one of the most beautiful churches with its shimmering Baroque and Moorish interior. My favorite stop was Virgen del Panecillo, the bus goes up the hill and waits which gives everyone 30 minutes to explore. On top of the hill you find full views of Quito. On a clear summer day in Quito, you'll see the snow-topped Antisana, Cotopaxi and Cayambe volcanoes looming over the city. La Ronda is the last time we got off the bus. La Ronda is pedestrian-only; full of artisanal shops and spots to indulge the sweet tooth. Pretty much an Old Quito type of area with beautiful little streets and colorful buildings. While exploring La Ronda, we stopped at a little ice cream shop Dulce Placer Heladeria. Quito is a very beautiful city and day one gave us a quick tour!
View from Virgen del Panecillo
Plaza Foch is the party place is Quito. In this Plaza and the surrounding blocks, you'll find loads of cafes, bars, and clubs. Foch is a popular place to settle in with a cocktail at an outdoor cafe and do some serious people watching. Sort of the nightlife/bar spot. For dinner we went to Q Restaurant.
Day 2
Teleferico to Pichincha
Lunch @ Zinc Gastro Bar
visit Mitad Del Mundo
---
Night @ La Platea
Yet another early morning, 8am to be exact. For Day Two, we went on the Teleferico; a cable car lift that takes you up Volcano Pichincha (4,050m up). It is best to go on a clear day for beautiful views of Quito and the nature around. It is a 20 minute ride up the volcano and once there, you have a chance to hike up an additional 800 meters. Quito's Teleferico is the perfect way to walk or trek into one of the main peaks of the Pichincha volcano. Besides it offers one of the majors views of the city of Quito.
The price for the cable car up in Quito is $ 4.50 for adults, $7.50 for foreigners.

Whether you're just going up the TelefériQo to leisurely admire the views or to summit Pichincha, be sure to pack a jacket. You can definitely feel a dramatic difference in temperature up here.
For lunch we grabbed food at Zinc Gastro Bar, ordered the Z[INC] burger. Then spent the rest of the afternoon visiting Mitad del Mundo, with a centerpiece monument marking the equator. It translates to "The Middle of the World" *although it's now known the actual equator is 250 meters from the monument.
It's completely touristy, out of the way from central Quito, and the main monument isn't even actually on the equator. Despite these drawbacks, it can still be a quirky and picturesque thing to do in Quito. There's a small Guayasamin museum and some art galleries that are run by the artists themselves. Other attractions within the park (included in the entrance fee) are the Viviendas Ancestrales (Ancestral Homes) exhibition, the Museo de Cacao (the history of Ecuadorian chocolate production); and the Museo de la Cerveza Artesanal (Craft Beer Museum), with displays on the brewing process and beer for $5.
At night we had dinner at Urko Cocina Localwhich serves delicious food. This place creates an innovative and tasty way to discover the culinary delicacies of Ecuador. The setting is amazing, starting with the roof covered in fresh herbs used in their many creative dishes. The main level, with its quirky, unique vibe and the entry level with indoor/outdoor seating. I highly recommend both the food and the experience!
For dessert, helado de paila is very traditional and delicious! A frozen ice cream treat made in large, copper pots. Inside the The Plaza Grande Hotel is Cafe Plaza Grande, the best location to find this delicious treat. They make the ice cream, and bring it in the paila. A cucurucho (a costumed figure) comes and serves it to you. It is always cool to see the special "ice cream show" but you can find helado de paila in any other location.
Day 3
We took the bus to Baños, Ecuador
Hotel @ Sangay Spa Hotel
ADVENTUROUS activies: Waterfalls, Thermal baths, Swing at the edge
---
dinner @ Hikory Hamburguesas
For Day Three, we took the bus to Baños, the town's full name is Baños de Agua Santa: the holy water Baths. It's outside of Quito (beware there are some curvy roads). We took the bus early morning, there was unpredictable traffic so we were delayed getting to our destination. In reality the ride should only take around 3 to 4 hours. First thing you notice is the difference in bus terminals, Baños is way more old school and crowded, it has that backpacker feel. The area is amazingly fun and walkable; here you can see waterfalls, hike through the forests, enjoy the steaming thermal baths (hence the town's name), bike or boat all the way to the Amazon Basin, and marvel at the occasional eruption of nearby Volcán Tungurahua.
First thing we did was check into our hotel, this was unplanned, once we finally got to Baños we realized leaving the same day wasn't possible. So, we chose to stay at the Sangay Spa Hotel- the hotel has breathtaking view of the waterfall from the windows.
We went to La Casa Del Arbolwhere you find a tree house with the "swing at the end of the world" at the top of a steep hill. It's a fun experience, not as scary as you might think. More than 60 waterfalls cascade into the surrounding countryside from the slopes of the volcano. The waterfall in front of our hotel is the Cascada de la Virgen but there is also Pailón del Diablowaterfall, the park for it is $1.50 to enter.
The fog in the afternoon kept us from trying other things, but the thermal baths are next to the hotel as well. The baths are heated by the nearby volcano and contain high mineral content (believed to have restorative health benefits).
Of all the local restaurants available, we followed the scent of a burger spot called Hikory Hamburguesas. But if you want traditional Ecuadorian food, Baños is FULL of local restaurants.
Day 4
Shopping @ Mercado Artesenal
Lunch
---
Dinner @ URKO Cocina Local
Back in Quito after our trip to Baños, we really wanted to do some afternoon souvenir shopping before heading back home. A lot of people recommend Otovalo but after the trip to Baños, we were too tired to travel again. Quito has an area called Mercado Artsenal de La Mariscal (Artisan Market) so we went there. It is half a city block filled by more than 200 crafts stalls, with good prices and great for souvenirs. The rest of the day was spent with family and packing.
My cousins showed us La Platea and we loved it. It's a cute artistic yard with food trucks and interesting seating. The food truck we chose to eat from was Wabi Sabi Sushi and hookah from another truck. Half way through my meal I realized our table used to be a door! I looked around more and noticed the light fixtures were recycled bottles, pails, and cheese graters.
Absolutely amazing way to spend the last day!
ADDITIONAL DAY TRIPS
EXPLORE LA LAGUNA DEL QUILOTOA
TRIP TO OTAVALO
EXPLORE LAGO SAN PABLO
SEE GALAPAGOS ISLANDS

We were only in Ecuador for a few days, so it wasn't possible to show Abd-Allah everything. A few other cool places to visit in Ecuador are
1) La Laguna del Quilotoa: If you love hiking and getting lost, exploring the Quilotoa Loop is perfect for you. The Quilotoa Loop is around 200km (124 miles) of Andean trails near Volcan Cotopaxi. The route is highly customizable, it can take you 2 days to 2 weeks, but "The Quilotoa Loop" most often refers to a four-day trek between Sigchos and Quilotoa. Whichever way you take, you can expect several days of intensive trekking through beautiful and remote towns, and a grand finale at Laguna de Quilotoa.
2) Otovalo: I mentioned Otovalo as an option in Day 4. Known as the "Otavalo Market" to tourists, it is known locally as Plaza de los Ponchos and also Centenario Market. Otavalo's market is legendary in this Andean mini-city. Their sidewalks are embossed in red, yellow and blue (the colors of the national flag). Otovalo is a perfect jumping-off point for regional hikes (Cotacachi, Peguche) and has enough interesting restaurants and cafes. From Quito, the trip takes about 2 hours, by bus it costs $2.50.
3) Lago San Pablo: For relaxing within nature, San Pablo del Lago is a tranquil little village surrounded by peaceful waters of the San Pablo Lake. The Laguna de San Pablo (lake) is incredibly beautiful and the mountains and volcano make for some breath-taking scenery. You can hike up the Imbabura Volcano, mountain bike some mountain trails, take short walks along the lake shore or even try your hand at riding horses.
4) Galapagos Islands: Here is where you find wildlife and landscapes found nowhere else on Earth. The Galápagos Islands is a volcanic archipelago in the Pacific Ocean, and its isolate location shelters a diversity of plant and animal species, many found nowhere else. It is a pricey trip. I was very young when I went with my family, but this link explains how to travel to Galapagos on a budget.