Los Cabos, Mexico
Los Cabos is a tale of two Mexican towns: Cabo San Lucas and San José del Cabo — set at the tip of Mexico's Baja Peninsula. San José del Cabo is the cultural hot spot full of galleries and shops. while, Cabo San Lucas is a bustling downtown with tequila-fueled party bars. The 20-mile Tourist Corridor separates the two towns and is lined with glamorous resorts & Hotels. Los Cabos is the place to be for a great vacation!
DAY 1
Check in
Riu Palace Hotel
Pool & Beach
Lunch @ El Medano
Sunset by the beach
---
Dinner @ Misaki
Night @ Cabo Wabo
Bienvenido a Los Cabos!
The tip of Mexico's Baja Peninsula. We stayed in Cabo San Lucas, there are a lot of hotels to choose from. We chose Riu Palace for the all-inclusive experience, but there are a number of other hotels along the beach front.
Upon entering Riu, we were greeted with welcome drinks and our bags were taken to our room. There are five restaurants in the hotel, so of course we tried them all. For an All-Inclusive the food is pretty great, none of the restaurants require reservation and we never had a problem being seated. The pools, especially early morning, are gorgeous and the hotel has views of the beach and el arco. The staff are fun and super positive, maybe a little too fun with the drinks (as if). The nightlife at the resort is pretty cheesy. There's the Pacha club across the street at Riu Santa Fe, but I highly suggest going into Cabo San Lucas for the nightlife.
First day there was a typical pool/beach day. We relaxed and enjoyed the gorgeous views. The hotel staff is super friendly, there's beach volleyball, water aerobics in the pool, etc. So we enjoyed and soaked up the sun. About a mile down the beach we found black rocks all along the coast. It's amazing to sit on them and listen to the ocean waves.
At night it gets chilly - Cabo is dessert climate (hot during the day and cool at night). My friends and I tried Misaki, the Japanese restaurant for dinner. Honesty, it was my least favorite restaurant of them all, but at least we tried it.
Some tips:
Taxis are expensive, so be aware. A taxi to your hotel from the airport can range up to $70-$80 (one way). A quick 5 minute taxi ride costs $14 flat rate (for 1-4 people, $3 per additional person). If you plan to just stay in your resort the whole time, a taxi every once in a while may be fine. If you plan to go out and explore, I'd suggest renting a car.

Cabo San Lucas is known for having tourists, so prices are not always "Mexican bargains".
At night we tried the hotel's club, Pacha (no bueno). So, go into the city and visit Cabo Wabo Cantina! Touristy yet fun with live music and rock and roll memorabilia all over. While other places closed down by 11 PM , Cabo Wabo is open until 3 am. It's worth a visit, without a doubt, but the food and drinks are a little pricey.
DAY 2
Breakfast Buffet
Pool/Beach
Lunch @ San Jose
Take a Boat Trip
Explore El Arco
---
Dinner @ Medano steakhouse
Night @ Squid Roe
Started the second day with an early morning, the sunrise views from the resort are breathtaking. Riu offers breakfast buffet style, the tables are first come first serve, but we never had a problem finding space. Breakfast lasts until noon and lunch started at noon, so we were always eating.
The resort's two infinity pools lead right up to the sandy "Playa El Médano" beach. On the beach we found locals selling souvenir items, offering horse rides and tour activities. We found a boat tour ($10 per person) to take us out to "El Arco del Fin del Mundo" the arch at the end of the world. Before heading out to sea, we had lunch at San Jose, Riu's Mexican restaurant. The boat had a cooler so we took drinks from our (all-inclusive) mini fridge.
The arch is the rock formation at the southern tip of whole Peninsula. There are two beaches there: Playa del Amor (Lover's Beach) and Playa Divorcio (Divorce Beach). Our guide, David, was super friendly. He gave an informative tour and let us (motivated us to) get off the boat to climb and jump off the rocks. November/December months are also supposed to be whale season. I personally didn't see any on my trip, but if you do, you're lucky!
For dinner we tried Medano, the steak house restaurant - pretty good. At night, we headed out to downtown Cabo San Lucas. On our trip we were recommended to check out Cabo Wabo and Squid Roe. Of the two, Squid Roe wins! Squid Roe is the perfect balance of locals and tourists, with music that caters to almost everyone - it's loud! There are three levels inside, cages to dance on, and wall decorations with tons of hilarious quotes. The first floor is the main dance floor, the second is more private with a view of the dance floor, and the third floor was for those steering clear of the chaos but still wanted to bop their heads to the music. The MC in the bar was the energy behind the crazy atmosphere and riled up the crowd from time to time.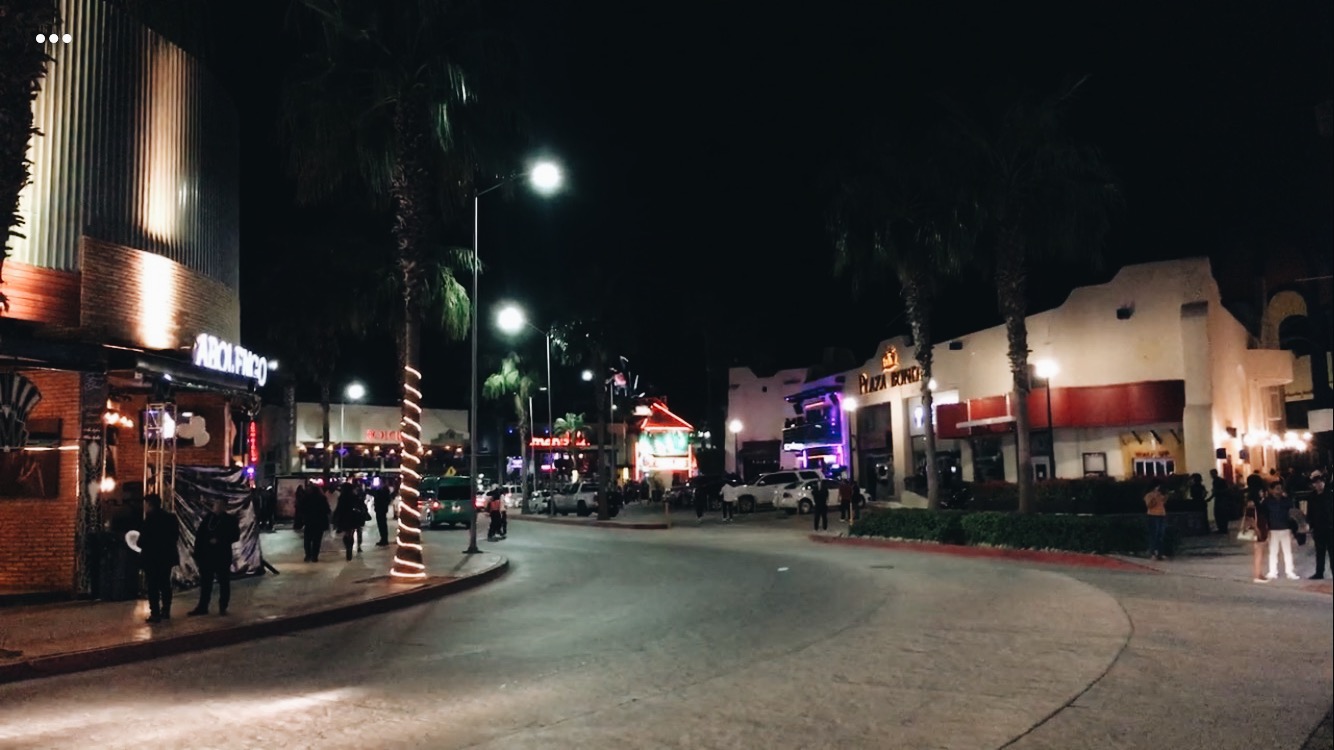 DAY 3
Morning Breakfast Buffet
Bus to San Jose del Cabo
Art Walk, Old Plaza, Cathedral
Explore - Gallery District
Lunch @ Baja Brewing Co.
---
Dinner @ Krystal
I'm not the kind of person who can stay in a resort all day everyday. While Cabo San Lucas is most itself at night, the quiet cobblestone streets of San Jose del Cabo are best explored during the day hours. After an early morning of huevos for breakfast in Riu and some pool time, it's a half hour ride north to the party town's artsy sister. So we explored San Jose del Cabo - the colonial, cultural hot spot of Los Cabos full of galleries and little boutique shops.
We were feeling adventurous, so we took the local bus (about $1.50 per person). The cost to go by taxi is around $45/each way. Easy to get to by bus but I wouldn't recommend it if you 1. don't speak Spanish or 2. are uncomfortable traveling with locals. Renting a car seems easier and parking in San Jose looked simple.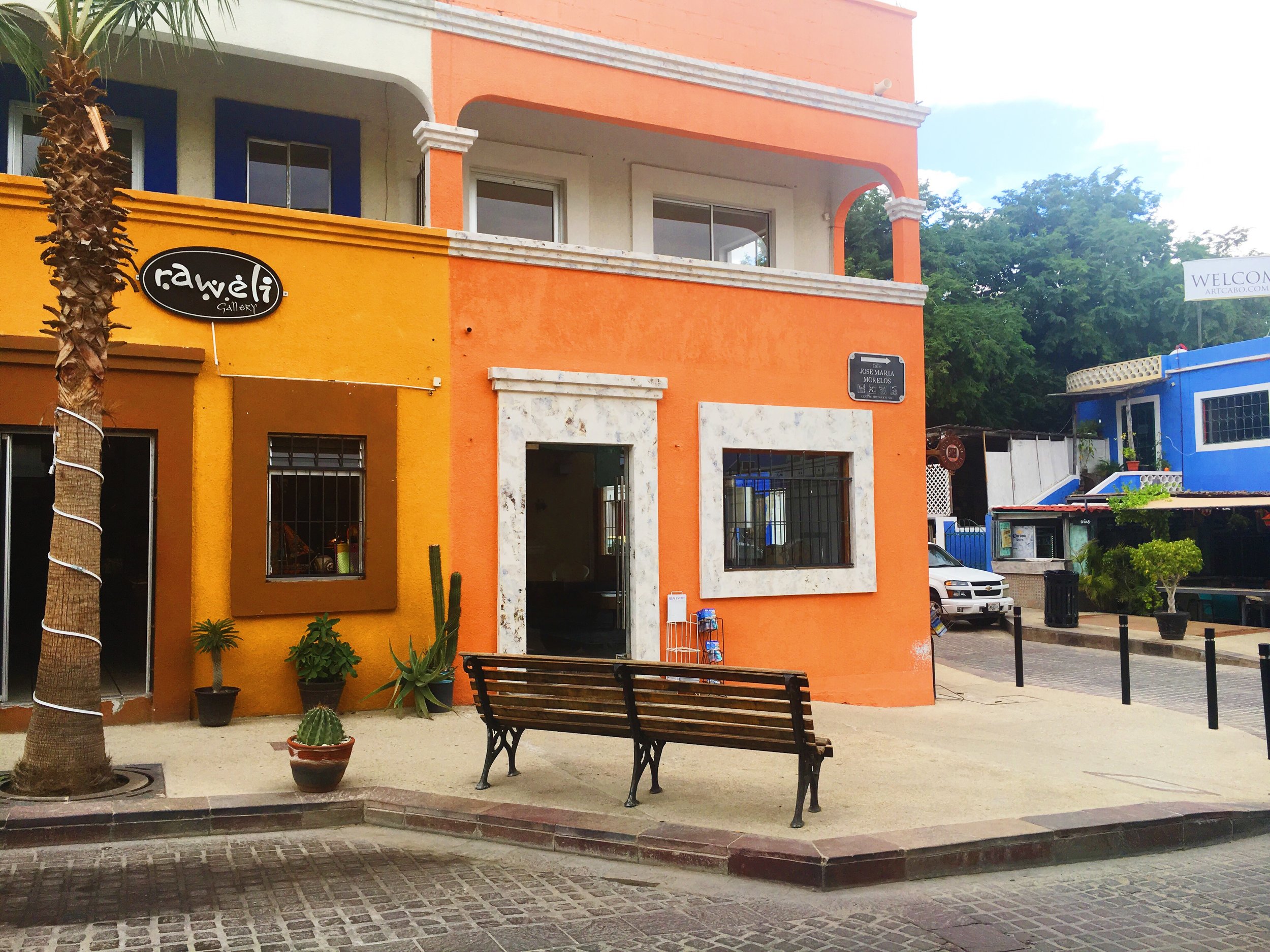 San Jose del Cabo is beautiful and so colorful. Entering the city we found colorful flags hanging above, vibrant building facades, and streets full of character. We walked down Boulevard Antonio Mijares.
Walking through the streets lined with bougainvillea, we found the Gallery District (a few blocks near the old town square). The galleries are worth the Art Walk tour, as is the colorfully tiled floors and doorways. Luckily on our walk we found Baja Brewing Co. an outdoor/patio seat/beer garden, where you can order a wood-fired pizza and enjoy the live music surrounded by local artwork.
Back at Riu, we dined at Krystal (the hotel's Fusion Restaurant) and it was by far my favorite restaurant of all five. We ordered one of everything from the menu (appetizers, entrees, and desserts) and it was all great.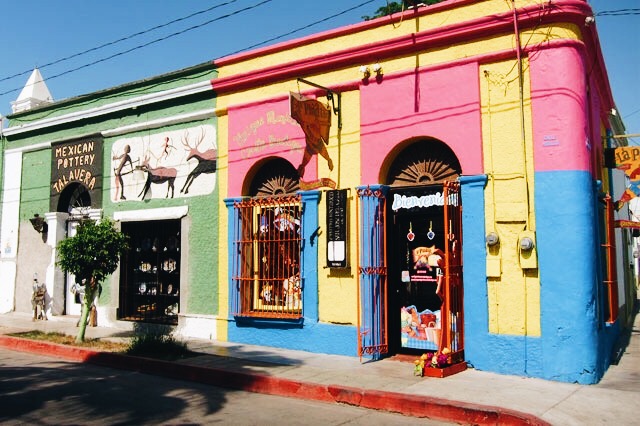 DAY 4
Breakfast @ RIU Palace Buffet
The Cape Hotel
Beach Lounge
---
Dinner @ Manta
Night @ The Rooftop
The Cape Hotel, literally right next door to Riu Palace Resort is phenomenal. If traveling with a partner I highly suggest spending at least one night here, if not most of the trip. Absolutely gorgeous! The hotel's style is contemporary, minimalist with a touch of Mexican details in just enough places that you're reminded you're in Mexico. Each evening, there are multiple bands playing on the rooftop bar and the lobby bar. Enrique Olvera's restaurant Manta serves excellent cuisine in the beautiful dining room.
The sunset is most beautiful from up above, so head up to The Rooftop. The hotel's roof terrace is a sky garden with dramatic views to downtown Cabo San Lucas and El Arco. Relaxing music played while we watched the sunset. We sat surrounded by flowing waters, beautiful greenery and the warmth of a fire pit. The perfect ending to an amazing Cabo getaway trip.
From Los Cabos, MeXico or Visited? Please comment suggestions/ideas
↓ Always love to hear from others ↓